J.B.O. consists of: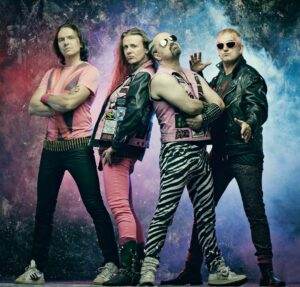 History:
J.B.O. was founded in 1989 by Vito C. and Hannes "G.Laber" Holzmann. The name, originally "James Blast Orchester", was meant as a parody of German Easy-Listening legend "James Last Orchester".
They had their first concert in October '89 at a Newcomer-Festival in their hometown Erlangen, Bavaria. Meant as a comedy rock act the setlist consisted mostly of cover-versions of evergreens with new funny lyrics, performed in metal sound.
Without knowing, J.B.O. had invented comedy metal.
The first five years the band was only a side project, until 1994 the J.B.O song "Ein guter Tag zum Sterben" (a perfect day to die) went on rotation on a local radio station. As it was only a demo-tape but more and more people asked for a CD, J.B.O. decided to get this done. They recorded their first CD in one day and two nights. It was the EP "Eine gute CD zum Kaufen" (a perfect CD to buy) which sold pretty good for a local act. The next EP "Blastphemie" was just a Xmas-present for the fans.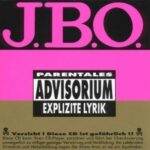 The real strike came in 1995 with their first Longplayer "Explizite Lyrik". The title is a word by word translation of the "parental advisory"-sticker which can be translated as "bold poetry". There were 20 tracks –and nearly 74min – with all the treasures of the first five years of J.B.O.. As they were still on the independent label "Musical Tragedies", there was no big business marketing for this CD. But it sold and sold (far more than 300.000 copies up to now). In summer 1996 J.B.O. entered the German LP-charts and stayed there for months.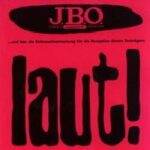 Their first major release "Laut!" (loud) was published in 1997. It climbed up to number 13 in the German LP-Charts.
Besides their CD's J.B.O. became more and more known as a spectacular live act. So they started touring all over Germany in 1996. In 1997 they played 100 concerts in front of all together 100,000 people.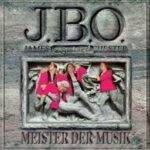 In 1998 they published "Meister der Musik" (masters of music), which was the first to enter a top ten ranking in German LP-charts. It stated that J.B.O.'s original songs did not stand back behind their cover versions.
1999 J.B.O. celebrated their 10th anniversary with a big festival inviting many bands they called friends and/or had toured with.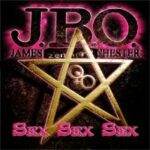 Year 2000 changed the band: Schmitti and Holmer "a Bier" Graap, – the whole rhythm section – decided to quit the band, due to different plans in their lives. Hannes and Vito decided to continue J.B.O. as all lyrics and music was written by the two of them. The album "SexSexSex" was recorded with the "old" members, but published with the two "new" guys:
J.B.O. was reenforced by Wolfram Kellner, an old school friend of Vito and bassplayer Ralph Bach. In 2001, 94 concerts showed that the new line-up wasn't just a replacement of the old: It was better than ever. This was proved on J.B.O.'s first live-album "Live-Sex.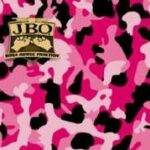 In 2002 the first studio record of the new line-up was produced on a Croatian island. Released in September that year, "Rosa Armee Fraktion" (pink army fraction) went in the charts up to number 13, like the one before. The music was now written by all four members of J.B.O. together with producer Christoph Beyerlein, in many ways the fifth band member, from the first EP to the present day. The release-tour presented J.B.O. grown together as a rock-force dressed in pink camouflage army clothes. The co-headliner status on the big metal-festivals in Germany (Wacken Open Air, With Full Force Festival) in 2002 and 2003 showed that J.B.O. had manifested their position in the German rock-scene.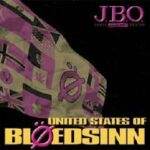 2004 was J.B.O.'s 15th anniversary! What they did was two things: They organized a festival in their hometown with their buddy-bands from all over Europe called the "30/2-Festival". And they released their 6th studio-album, called "United States of Blöedsinn" that hit the charts on number 6 a week later.
As J.B.O. don't like to translate the term "Blödsinn" – (which is a central idea in their lyrics) – simply by "nonsense", they want to establish the German word internationally as a loan word, like "Kindergarten" or "Autobahn". So they invented the new spelling Blöedsinn. If you haven't got the "ö" on your keyboard, just take the "o" – and it still stays "Bloedsinn.
On October the 1st 2004 J.B.O. started their big anniversary-tour all over Germany, Austria, Switzerland, Luxembourg. One concert of this tour was their 500th gig. Another concert was recorded audio and video for a planned DVD.
This DVD was a well kept secret until summer 2005. When announced, there was an outcry of joy among J.B.O.-Fans. Parts of three live-shows (the 30/2-Festival, Wacken 2004 and Mannheim tour-concert 2004) only completed a treasury of TV-parodies this DVD contained. It came out on October 21st 2005 and was followed by J.B.O.'s first best-of compilation named "Für Anfänger" (for beginners,) that was released only two weeks later. Best-of compilations are due to record-label politics in most cases. This one is no exception, but J.B.O. selected the songs themselves, re-recorded a classic from "Explizite Lyrik" named "Könige" (Kings) and provided previously unknown background information to all tracks.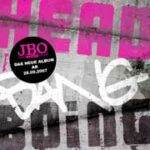 The next release was a 5-track EP called "Rock Muzik" which was sold for the price of a regular single and was meant to shorten the wait for the next J.B.O.-album which followed in 2007. Called "Head Bang Boing", it was the first regular album to be released on J.B.O.'s own label "Megapress".
From then until present days J.B.O. have been their own bosses, controling everything from live booking and merchandising to producing and marketing records, distributed by Soulfood, one of the bigger but yet independent german distributors.
This was also the time when J.B.O. started to conquer non-german-speaking Europe by playing shows in Slovenia, the Netherlands, etc.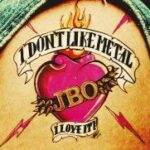 While "Head Bang Boing" didn't succeed as far as german album charts are concerned as well as J.B.O. had been used to in the past, they still toured very successfully. But it seemed to just take some time to learn the mechanisms of promoting and marketing with J.B.O.'s own record label, because the second Megapress album release "I don't like Metal" (2009) was the bands next Top-10 success. Hitting position 6 and followed by euphorically celebrated tour concerts and festival shows, this record still wasn't the best to come.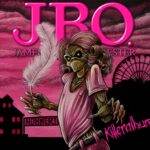 J.B.O.'s latest album release "Killeralbum" entered german charts on position 3, the band's biggest success so far, in 2011, their 22nd year of existence.
As the following "Killer Tour" in December 2011 was another huge success, J.B.O. are currently playing many additional concerts in Germany, Austria and Switzerland. But at the same time, J.B.O. are continuing to spread the Blöedsinn internationally.
In autumn 2011, only two months after "Killeralbum", the first fully english album, called "Happy Metal Thunder" was released to the world.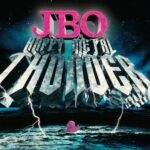 This record is a merry mixture of J.B.O.-evergreens translated into english as well as brandnew songs, like the Metallica-hommage "Long live Metallica" a collaboration with american singer Jaymz Lennfield from Beatallica.
So watch out, metal world! J.B.O. continue to enlighten the sinister blackness of heavy metal around the globe now.
Check out one of their albums, their homepage www.jbo.de (with english content also),
or visit one of the spectacular J.B.O. live concerts and you will be proved that metal can be happy and fun.
Pink is the new black!
BLAST!
(to be continued)